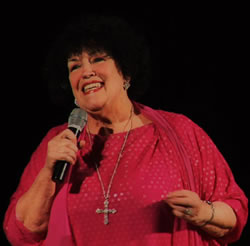 Liz Layton
Liz Layton started what has become a long and successful career as a band singer in nightclubs in Melbourne, Australia. While working one room she was offered the opportunity of being a part of the Tivoli Theatre Ballet as lead singer/dancer and she's never looked back. Not realizing that eventually she would include comedy in her shows in a big way, she learned how to work with American and English comics in their various sketches which is a skill that has proven to be invaluable.
It wasn't long before she was appearing in Nightclubs all over Australia working with people like Guy Mitchell, Helen Reddy and English recording stars Dorothy Squires, Harry Secombe and David Whitfield. She was also appearing on most Television Variety Shows. It was at this time that she decided to try her luck overseas.
She worked extensively through-out South East Asia working the American Bases in the Philippines, Japan, Okinawa and International Hotels in Singapore, Japan and Hong Kong. In Vietnam she entertained the troops from the Mekon Delta to the demilitarized zone at Quang Tri. She was Rodney Dangerfield's opening act in his club in New York City and appeared extensively in the Catskill Mountains in resorts like The Homowak, The Raleigh, Grosingers and many more.
As a solo performer she has no equal and is always in demand. Just recently she appeared for the Malaysian Government at their Tourism Presentation Night in Kuala Lumpur.
The past few years have seen her entertaining on Cruise Ships throughout the world.
Cruise line appearances include:
CUNARD: MS Crown Monarch
HOLLAND AMERICA: MS Volendam, MS Statendam & MS Amsterdam
CARNIVAL: Sun Princess, Diamond Princess
P.& O: Pacific Dawn, Pacific Sun
CELEBRITY: MS Mercury