Terry Gordon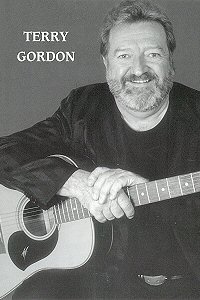 Balladeer, Songwriter, Bush Poet & Comedy Performer
In recognition of his undeniably respected status in the top ranks of Australian country music, Terry Gordon has been honoured with the coveted award of Queensland Country Music Entertainer of the Year.
At a glittering ceremony in Brisbane at the end of 1993, the award was presented to Terry, not only as a tribute to his more recent concerts and recording successes, but also in tribute to his 30 continuous years as a multi-talented, much admired and affectionately regarded country music entertainer.
During his continually-travelling career, he has criss-crossed the length and breadth of Australia literally dozens of times. From Darwin to Hobart & all points between, Terry has performed in all kinds of venues from weather-beaten tents to the most modern high-tech entertainment centers & television studios.
Though born in the small town of Taralga near Goulburn, New South Wales, the Terry Gordon career story really begins at age five when his dad took him to see the Tex Morton Wild West Show. It was enough to set the youngster on a determined, unswerving ambition to become a country music star.
Terry Gordon has constantly been in demand for television appearances and has performed on the Nine Network's "Midday Show" & all the major TV variety shows as well as specialized country music TV programs all around Australia.
In 1995 Terry was invited to appear at the Hodag Country Music Festival in Wisconsin, USA along with Willie Nelson, Clint Black, George Jones, Bobby Bare and a host of American country music legends.
In the same year, at the Kempsey Heritage Festival, Terry received an award for his work and dedication to country music in Australia and he has also been inducted to the Country Music Hands of Fame in Tamworth.