Yolande Gibson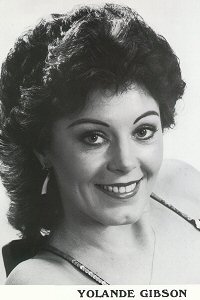 New Zealand is known worldwide for beautiful lakes, beautiful mountains and beautiful people. One of the most beautiful people must surely be YOLANDE GIBSON whose name is a household word throughout the country.

This dynamic 5ft 6in, hazel eyed brunette, with her distinctive dimple, has now decided to move to Australia permanently, after numerous successful tours over the last few years.

Yolande has packed a wealth of experience and success into a career which includes New Zealand tours with such well known personalities as Harry Secombe, Dick Emery, Roy Orbison, Solomon King, Gene Pitney and Max Bygraves along with numerous local television shows including Studio One, Good Time Show, Girl To Watch Music By, Late Show, Everything Is Beautiful, Thatís Country, Anzac Special, Big Band Special, Tele Quest, Rob and Guest and Club Show are but a few of her many appearances.

In spite of Yolandeís busy schedule, she has found time to produce many records which have proved popular, and to appear in stage shows such as Music Man, Pyjama Game & Irma La Douce.

Many regard Yolande as a modern day Vera Lynn, while others compare her style to that of Minelli or Streisand. But there is no doubting her popularity in a career that spans over 23 years in show business and if thatís not the essence of success then what is?